Jane from CLEAR writes about the benefits of going meat-free and shares some recipes in her latest blog.
There's no denying the benefit to the environment of cutting down your meat intake as ruminant meat, beef in particular, is consistently identified as the single food with the greatest impact on the environment, most often in terms of greenhouse gas emissions and/or land use per unit commodity.
A survey released last year found that around 3.5 million Britons have already adopted a plant-based diet and many people are turning to meat substitutes to bulk out their meals to ensure they're consuming enough protein. Proteins are essential for the growth and maintenance of your body, to repair cells and make new ones.
Protein from animal sources (e.g. meat, fish, eggs and dairy products) contain the full range of essential amino acids (the building blocks of protein) needed by the body. However, Soya, quinoa and hemp are the only plant-based complete sources of protein. Vegans and vegetarians can get all the amino acids they need by combining different plant sources of protein. Good sources of these include nuts, seeds, pulses (beans, lentils and chickpeas), mycoprotein (Quorn), soya products and Seitan (high protein vegan food made from cooked wheat gluten). (nutrition.org.uk/healthy-sustainable-diets/protein/).
There is now also a massive range of processed products like these; including vegan cheese, bacon, chicken and turkey and most supermarkets now have plant-based ranges of ready meals.

If you currently eat meat but want to cut down, why not give 'Meat-free Mondays' a go?
Try these high-protein vegetarian recipes for tasty and nutritious meals which are packed full of flavour.

Peanut Thai Pasta Salad                        thespruceeats.com
Peanut Thai Pasta Salad is the perfect summer pasta salad. It is full of spicy and savoury peanut flavour and could not be easier to whip together.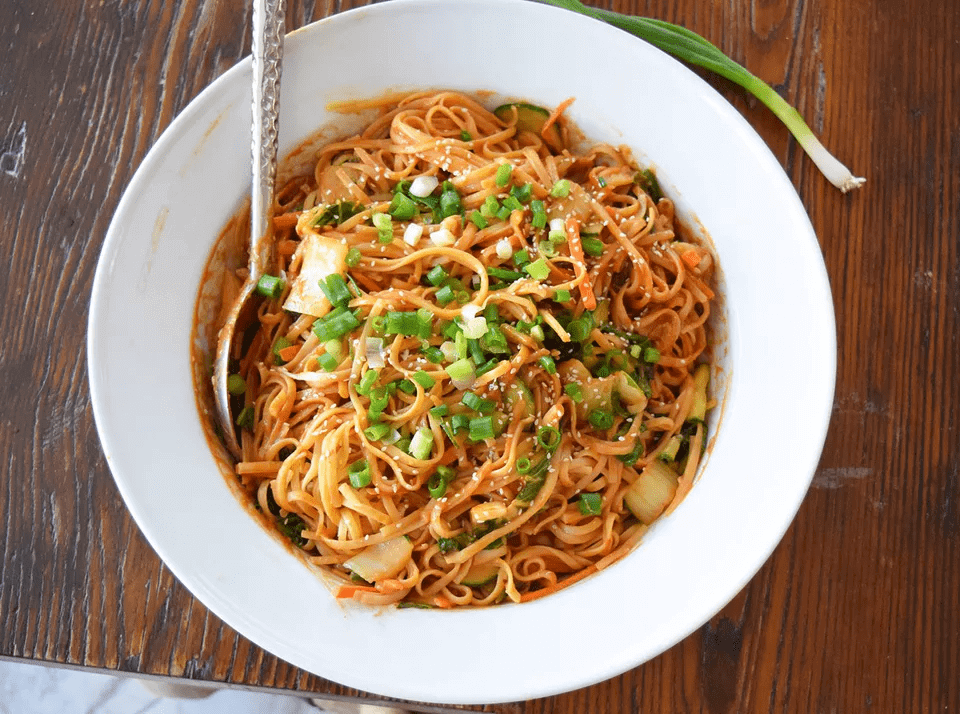 Ingredients
1 tablespoon red wine vinegar (or rice vinegar)
2 teaspoons sesame oil
2 teaspoons ginger (fresh or powdered)
2 teaspoon garlic powder
2 teaspoons onion powder
1/3 cup brown sugar
1/4 cup ketchup
1/4 cup soy sauce
1/2 cup smooth peanut butter
1 teaspoon red pepper flakes
2 teaspoons Sriracha hot sauce
Noodles:
1 lb. of linguini (or bow ties or any dry pasta)
1/2 of English cucumber (thinly sliced)
1 head of bok choy (or other Chinese cabbage, thoroughly cleaned, chopped or shredded)
4 carrots (peeled and thinly sliced)
1/4 cup lime juice (freshly squeezed)
1/4 cup soy sauce
3 scallions (chopped)
1 tablespoon sesame seeds (white)
Method
Combine the sauce ingredients in a food processor or blender, until smooth.
Cook the pasta to an al dente texture or according to the package directions.
 Cut vegetables to desired thickness and width. Toss cut veggies with the soy sauce and lime juice in a separate bowl. Allow to marinate for 10 to 15 minutes if possible. 
Combine the noodles with the sauce and veggies until completely combined. Sprinkle the top of the pasta with scallions and sesame seeds. Serve with extra sriracha if desired!
Three Bean Chilli With Potato Jackets           BBCGoodfood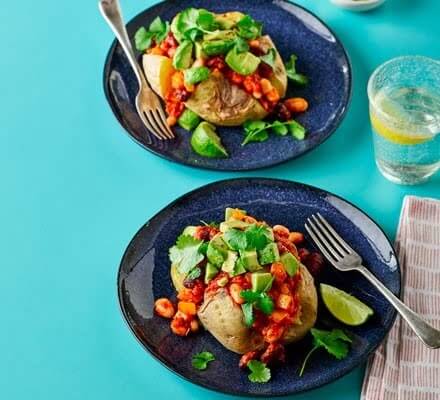 This healthy baked potato filling provides four of your 5-a-day in each serving, plus iron, vitamin C and fibre, and plenty of flavour from store cupboard spices. The avocado and lime lift this dish to amnother level.
Ingredients
2 baking potatoes (about 180g each)
1 tbsp olive oil
1 yellow or orange pepper , deseeded and chopped
2 garlic cloves , finely grated
1 tsp cumin seeds
½ tsp chilli flakes
1 tsp smoked paprika
1 tsp ground coriander
1 tsp dried oregano
400g can chopped tomatoes
2 tsp vegetable bouillon powder/stock cube
400g can three bean salad (cannellini, flageolet and adzuki), drained
handful of coriander , chopped, plus extra leaves to serve
1 small avocado , stoned, halved and chopped or mashed
1 lime , cut into wedges

Method
1. Heat the oven to 200C/180C fan/gas 6 and bake the potatoes for 50 mins-1 hr, or until tender
2. Meanwhile, heat the oil in a non-stick frying pan and fry the pepper and garlic for a few minutes. Stir in the cumin seeds, chilli flakes and spices, then tip in the tomatoes, bouillon powder and beans. Bring to a simmer, cover and cook for 15 mins, or until reduced to a thick sauce. Stir in the chopped coriander
3. Cut a cross into the tops of the baked potatoes and gently press on the sides to open them out. Spoon over the chilli, then top with the avocado and squeeze over some of the lime wedges. Scatter over some coriander leaves and serve with the remaining lime wedges.
Supergreen stir-fry with marinated tofu                     play.decathlon.co.uk                      
This delicious meal is packed full of protein and other essential nutrients, and it's super easy to make. Pair with wholegrain rice to increase your daily fibre and vitamin B intake.
Ingredients:
80g brown rice
20g cashew nuts
1 tbsp extra virgin coconut oil
1 medium red onion
2 cloves garlic (finely chopped)
1 red chilli (finely chopped)
160g marinated tofu pieces
100g broccoli (cut into small florets)
 1 large courgette (sliced)
50g frozen soya beans
10g coriander (finely chopped)
2 tsp reduced sodium light soy sauce
Method:
1. Bring a large saucepan of water to the boil. Add the rice and cook for 20 minutes until tender.
2. While the rice is cooking, toast the cashew nuts in a small pan over a medium heat until they turn golden brown. Once browned, remove from heat.
3. Heat the oil in a wok or large, deep-sided frying pan, add the onion, garlic and chilli and cook for 1 minute, then add the tofu and cook for a further 2 minutes.
4. Stir in the broccoli, courgette and soya beans, adding a small splash of water to the pan so the vegetables can cook in the steam. Cook for 5 minutes until the vegetables are tender, stirring in the cashew nuts halfway through.
5. Remove the pan from the heat and mix in the coriander and soy sauce.
6. When the rice has finished cooking, drain the rice and divide it on to 2 plates, then top with the stir-fry.