Eating local and seasonal food has lots of benefits for you, your community and the environment.
1. It reduces the amount of energy used to transport, refrigerate and store the food and less packaging is required to keep it fresh, so there are a much lower environmental impact and lower greenhouse gas emissions.
2. It is usually fresher, tastes better and is more nutritious! As soon as a fruit or vegetable is picked, it begins to lose moisture and ripeness, both of which contribute to a loss of vitamins and minerals and flavour.
3. You can help Stop Food Waste! The longer food spends in storage and transit, the higher the chance of it spoiling and becoming waste. Buying locally and in season can help reduce the risk of food becoming waste before it gets to the shelves.
4. Although local food can be more expensive, buying in season means you're getting it at peak supply when it's at its cheapest., and the money stays within the local community.
When you get to the shops, keep an eye out for seasonal foods and check the origin labels before you buy. Better still, why not see what's available from CLEAR, or your local farmers' markets or farm shops. 
Vegetables in season in April
Cabbage (green, Spring greens), celeriac, chard, chicory, kale, leeks, parsnips, purple sprouting broccoli, seakale, spring onions and wild garlic. You can also find leafy crops grown under cover (leaf beet, oriental greens, winter salad leaves), plus stored vegetables like beetroot.
At the CLEAR community gardens in Buckhaven and Methil, we still have some Jerusalem Artichokes and Kale available for collection (please email support@clearfife.org), free of charge or for a small donation. These are two often under-rated vegetables that people often disregard, but which can be absolutely delicious. Here are some recipes to make the most of them.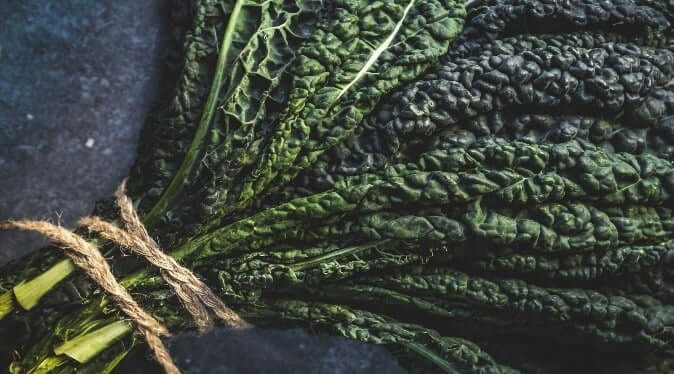 Roast Kale Chips
This is a delicious crispy treat that it's both healthy and easy to prepare.
1 bunch kale
1tbsp oil
1tsp salt
Preheat an oven to 180 degrees C/Gas 4. Line a baking sheet with parchment paper.
With a knife or kitchen shears carefully remove the leaves from the thick stems and tear into bite size pieces. Wash and thoroughly dry kale with a salad spinner, or a tea towel. Drizzle kale with olive oil and sprinkle with seasoning salt and mix thoroughly.
Bake until the edges brown but are not burnt, 10 to 15 minutes.
Kale stalk pesto                         https://www.riverford.co.uk
Ingredients
2 handfuls of kale stalks, roughly chopped
50g pumpkin seeds
1 tbsp ground cumin
1 garlic clove, peeled
Olive oil
1 lemon
Method
Prep time: 10 mins
Put the kale stems in a food processor. Add the pumpkin seeds, cumin and garlic clove. Pour in a few good glugs of olive oil to start with; you can always add more if you need it.
Blitz the ingredients together. If you like your pesto a bit chunky, don't blend for long. For a smoother consistency, blend for longer. Add more olive oil if needed.
Finish by squeezing in half the lemon and a little salt and pepper. Stir, taste, and add more lemon or seasoning to suit your taste. Serve immediately or keep in the fridge. Use within a week.
Roasted Jerusalem Artichokes with mushrooms & rosemary         https://www.riverford.co.uk
 Serves 3
A very simple dish for these delectable Jerusalem artichoke tubers. You don't even need to peel them! Arguably they are all the better with their skins on as it adds to the nutty, slightly smoky flavour that makes them so interesting. The mushrooms are ideal bedfellows as they have an equally earthy, wintery feel to them. The rosemary and garlic get added towards the end so that neither are at risk of burning and going unpleasantly bitter in the oven.
Ingredients
150g mushrooms
600g Jerusalem artichokes
oil for roasting
1 lemon, finely zested
1 large rosemary sprig
2 garlic cloves
salt & black pepper
Method
Preheat your oven to 180⁰C/Gas 4. Roughly slice the mushrooms, not too thinly. Give the artichokes a wash and scrub to remove any soil or grit, making sure you get into any nooks and crannies. Cut them into 4-5 cm angled pieces.
Throw the artichokes and mushrooms into a roasting tray with 2 tablespoons of oil and a squeeze of lemon juice. Season generously with salt and pepper and mix well; the tray may look a bit overcrowded, but the mushrooms will shrink as they roast.
Pop the tray into the oven and cook for 30-40 minutes, giving them a turn halfway through, until the artichokes are tender and starting to colour at the edges and the mushrooms have gone dark and sticky. Meanwhile, strip the rosemary leaves from the stalk and finely chop them together with the garlic cloves and half the lemon zest.
When the artichokes are done, mix the rosemary, garlic and zest into the tray and return it to the oven for a final 5 minutes to take the raw edge off. Remove from the oven and check the seasoning, tweak with more salt, pepper or lemon juice to your liking.
Enjoy!
Further information available on:
Climate Action Fife is a Fife-wide partnership project, bringing together individuals, communities, local government and businesses to tackle the climate emergency. It is funded by The National Lottery Community Fund's Climate Action Fund. #ClimateActionFife